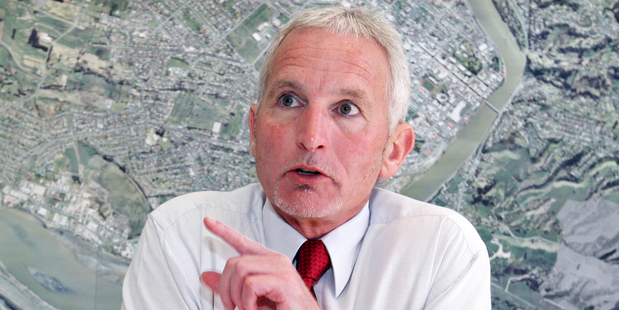 Laws is a proponent of smacking and its effectiveness. Photo / APN
.

Police are investigating former Whanganui mayor Michael Laws after an allegation of child assault was made against him.
Laws, a former RadioLive talkback host and current Whanganui District Health Board member, was reported to police after allegedly smacking one of his children.
The incident allegedly happened at Whanganui Hospital last year. Laws, 56, was there with his three youngest children – Lucy, 9, Zoe, 7, and Theo, 5 – to visit their mother, Laws' former partner Leonie Brookhammer, who suffered a stroke in August.
The Herald on Sunday understands the alleged smack was witnessed by a nurse in the assessment, treatment and rehabilitation ward. She reported it to the DHB and complained to police.
The Herald on Sunday asked police whether Laws was under investigation for allegedly hitting a child.
A spokesman replied by email saying: "Police can confirm they are investigating a child assault complaint made against a 56-year-old Whanganui man.
"As this matter is under investigation we are not prepared to discuss any further details."
Laws yesterday said: "I have no idea what you are talking about, and my private life is none of your business."
A source said there was no doubt Laws cared for and loved his children, but his views on smacking are well known.
In a newspaper column last January he wrote: "Yes, I smack. The singular swift slap on the bottom is applied by myself – in public – if my kids cross the line.
"I can report both its effectiveness and the fact that neither the police nor CYF have visited. They won't either, because the law may be an ass, but its application is not." New Zealand's controversial anti-smacking law, championed by former Green MP Sue Bradford, came into effect in 2007, and removed the defence of reasonable force for parents prosecuted for assault on their children.
A 2009 referendum found an overwhelming number of people did not believe a smack as part of good parental correction should be a criminal offence. Debate over the issue was reignited this week when aspiring politician Colin Craig, who has admitted smacking his 8-year-old daughter, said repealing the anti-smacking law was a condition of his support for a National-led government if his Conservative Party makes it into Parliament in this year's election.
Meanwhile, Brookhammer, 44, is recovering from the stroke at home in Whanganui. She can speak and is able to walk with the aid of a crutch.
Laws and Brookhammer separated in 2009.
Laws has had a high-profile and often controversial career in politics and broadcasting.
As mayor, he banned gang patches on the street and rallied against the Geographic Board's decision that his town should be spelled Whanganui.
Read article here……